What To Do If Your Dog is in Danger of Being Declared Vicious, Or If Your Dog Has Bitten Someone Who is Now Suing You
You may be sued if your dog bites a person or attacks another animal.
The person who's been harmed — or the person whose animals have been harmed — may file a civil lawsuit against you, seeking monetary redress. See our page on Stages of a Civil Trial for more information about what is likely to ensue, in that case.[1]
They may also file a complaint seeking to have your dog declared dangerous — and perhaps even to have your dog euthanized or removed to a new home out of the community.
This page is a brief overview of what to expect in that event. It is not a substitute for an attorney. An attorney can best advise you on how to protect yourself and your dog, if someone is seeking to have your dog declared dangerous.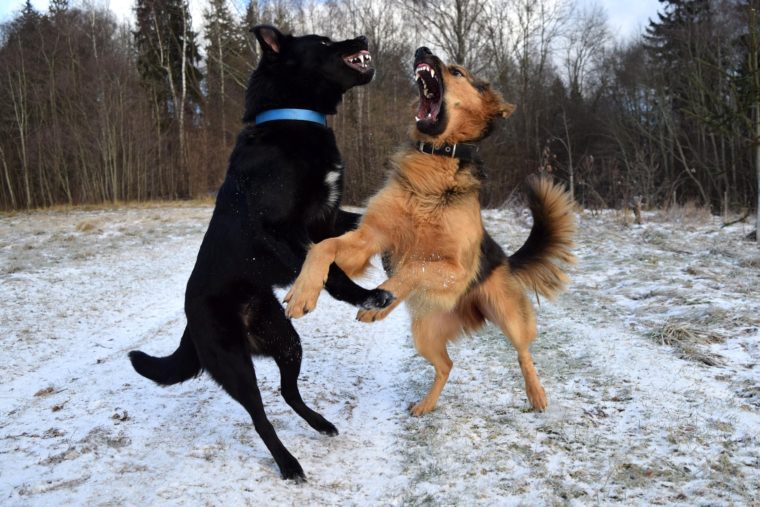 The law varies from jurisdiction to jurisdiction:
There is no federal dangerous dog law. States will have their own dangerous dog law. Some counties and cities also have dangerous dog laws.
These laws will vary as to what behavior is deemed dangerous. In some, one bite can lead to a dangerous dog determination; in others, the dog must have bitten more than once. Similarly, some jurisdictions may consider a dog dangerous if that dog has killed another animal, in others not.
The procedures also vary between jurisdictions:
If your dog is accused of an attack, he or she may be seized and put on "bite hold" at a local shelter. You will then generally be entitled to a hearing before your dog is declared dangerous. This hearing may be before an administrative hearing officer or before a judge.
The party seeking to have your dog declared dangerous — an animal control agency or an injured party — will present evidence showing why they believe this designation is appropriate. If you are contesting the dangerous dog designation, you may present evidence showing why your dog should not be declared dangerous.
Some examples include:
Evidence relating to identity. Was it your dog who attacked, or could it have been another dog?
Evidence relating to the severity of the attack. Was the bite not as severe as contended?
Evidence relating to why the dog attacked. Was your dog defending you? Was the person bitten provoking your dog?
The law in your jurisdiction will determine if you, or another party, may appeal the determination.
If your dog is declared dangerous:
There are a number of things that might happen. You might be required to muzzle your dog in public or to affix a "vicious dog" sign to your front door. You may be ordered to remove your dog to a different jurisdiction — in other words, to find your dog a new home in another community.
There is also the chance that your dog will be ordered to be euthanized. Because of these serious stakes, we urge anyone whose dog may be declared dangerous to consult a lawyer.
Source URL: Read More
The public content above was dynamically discovered – by graded relevancy to this site's keyword domain name. Such discovery was by systematic attempts to filter for "Creative Commons" re-use licensing and/or by Press Release distributions. "Source URL" states the content's owner and/or publisher. When possible, this site references the content above to generate its value-add, the dynamic sentimental analysis below, which allows us to research global sentiments across a multitude of topics related to this site's specific keyword domain name. Additionally, when possible, this site references the content above to provide on-demand (multilingual) translations and/or to power its "Read Article to Me" feature, which reads the content aloud to visitors. Where applicable, this site also auto-generates a "References" section, which appends the content above by listing all mentioned links. Views expressed in the content above are solely those of the author(s). We do not endorse, offer to sell, promote, recommend, or, otherwise, make any statement about the content above. We reference the content above for your "reading" entertainment purposes only. Review "DMCA & Terms", at the bottom of this site, for terms of your access and use as well as for applicable DMCA take-down request.
Acquire this Domain
You can acquire this site's domain name! We have nurtured its online marketing value by systematically curating this site by the domain's relevant keywords. Explore our content network – you can advertise on each or rent vs. buy the domain. Buy@TLDtraders.com | Skype: TLDtraders | +1 (475) BUY-NAME (289 – 6263). Thousands search by this site's exact keyword domain name! Most are sent here because search engines often love the keyword. This domain can be your 24/7 lead generator! If you own it, you could capture a large amount of online traffic for your niche. Stop wasting money on ads. Instead, buy this domain to gain a long-term marketing asset. If you can't afford to buy then you can rent the domain.
About Us
We are Internet Investors, Developers, and Franchisers – operating a content network of several thousand sites while federating 100+ eCommerce and SaaS startups. With our proprietary "inverted incubation" model, we leverage a portfolio of $100M in valued domains to impact online trends, traffic, and transactions. We use robotic process automation, machine learning, and other proprietary approaches to power our content network. Contact us to learn how we can help you with your online marketing and/or site maintenance.